Goonies never say die
I was going to write another windy piece about Bolivia, the waffling moderation of Evo Morales, dual power, and the unhealthy absence of revolutionary organisations on the ground, but I'm having a bad case of the I-Can't-Be-Arsed's today, so here's a little pop culture round-up instead.

Radio 1's celebrating thirty years of punk [I'm not pellucidly clear hear - help me out Justin, Darren, Kara - thirty years since Patti Smith's Horses is the anniversary we're talking about, yes?] (Interesting trivia: Hip-Hop is also thirty years old, as will I be this September) with a list of the top thirty punk tracks evah. Enragingly, but predictably, the muppets with the attention spans of tsetse flies that voted for this list have anointed Green Day's admittedly not entirely dreadful but hardly classic Basket Case as the number one. Indeed, the SoCal originators of wretched, Bambi-fied punk-pop even manage to capture this list's eighth and tenth chart positions with the M.O.R. hits American Idiot and LongView [sic] respectively as well. Even more vulgarly, The Prodigy's Firestarter (NB. Not punk) grabbed number four, and Nirvana's Smells Like Teen Spirit (Also not punk, however great the song is) won the number five position. Some track by emo onanists Jimmy Eat World is, criminally, ahead of Stiff Little Fingers' Alternative Ulster, and the chart is absent of Siouxie and the Banshees, Sham 69, X-Ray Spex, and (!) The Jam. I could go on, but suffice it to say the whole exercise is thoroughly, sadly, typical of the output of cringeworthy pop-star felchers Zane Low and Mike Davies. Kill Zane Low Now.

Elsewhere on Radio 1, mind, Huw Stephens - one of the triptych of bright young things with which Radio 1 has replaced the late John Peel - recently did a cracking little radio documentary subtlely undermining the idea that there is any such thing as British pop, or that any one should be proud of it. A nice bit of guerilla radiophonic anti-nationalism, and there's an interesting little tidbit he has about the adoption of that semi-Jamaican patois amongst British rappers too. It's a few months old now, but I only came across it last night and you can stream it from Radio 1 right here.

Also celebrating a birthday - and I can't believe I missed this - is The Goonies, which, disturbingly, turned twenty at the beginning of the month. I remember going to see it with my mum and little brother at the Oshawa Centre Famous Players cinema when I was nine and coming out wishing there were a hidden pirate ship I could discover across the creek or under the construction site at the end of our street. It was one of my favourite films growing up, but it seems some spods have taken their fandom a little further, having organised a 20th Anniversary jamboree in Astoria, Oregon, where it was originally filmed. TheGoonies.org has snaps of the anoraks' expedition to the Pacific Northwest and a fairly uncomfortable-looking Sean Astin. Jeff Cohen, A.K.A. Chunk - who, by the way, has lost his chunkiness (only to be rediscovered, abandoned-pirate-ship-like, by Sean Astin) and is working as a lawyer in Hollywood - however, seems to be loving it.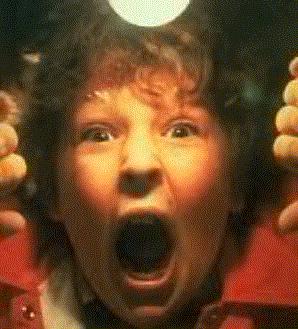 Across the world, considerably out-Geldoffing Chris Martin and Bono, Scottish twee merchants Belle and Sebastian have gone and visited the occupied territories in Palestine, and my friend Nick, the jammy git, went along with them. You can read all about it at Counterpunch.

I'll get to
Bolivia
tomorrow. I should think. In the meantime, check out the Run The Road grime compilation if you can. Best comp I've picked up in ages.

***

Apropos only of the Goonies comment - there aren't anywhere near enough pirate or pirate-related films, yes?